Royal Canin Urinary S/o Dog12x410gr
| | |
| --- | --- |
| Article number: | V7-19PO-LXYJ |
| Delivery time: | 1-2 days |
Description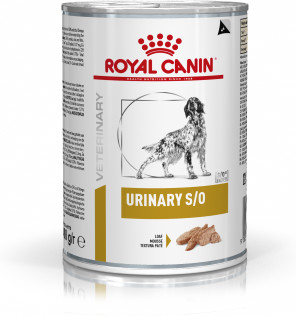 Benefits
✔ Residing struvite - and calcium oxalate uroliths are dissolved
✔ Acidifying the urine prevents any crystal formation in the urinary tract, effectively shutting down the supply of the forming of kidney stones
✔ The concentration of ions in the solution are reduced. If this concentration remains, the probability of having recurring kidney stones is higher because the solutions are harder for their body to break down
✔ A diluting effect on the urine, flooding any residual minerals in the process
✔ A complete dog food that will satiate its appetite and relieve your pet from its problems
Royal Canin Urinary S/O wet will effectively rid your dog of any kidney stones that have developed prior to changing its feed to Urinary S/O. The special formula dissolves struvite and calcium oxalate uroliths and prevents the buildup of future urinary problems by diluting the urine. In doing this, the chances of struvite and calcium-oxalate crystals to form in the urinary tract are heavily reduced. Furthermore, Royal Canin Urinary S/O lowers the RSS - concentration of ions within a solution - which is a key factor in the development of kidney stones. Finally, the urine is acidified to dissolve any crystal formation prematurely. The feed is recommended for kidney stones and cystitis but should not be administered to dogs with chronic kidney disease or heart diseases.
Ingredients
Meat and animal derivatives (chicken and pork meat), oils and fats (sunflower oil, fish oil), cereals (corn flour, corn starch), derivatives of vegetable origin (cellulose, gelling agent, marigold extract), minerals, various sugars (caramel).
Additives
Vitamin D3: 190 IU, E1 (Iron): 3.4 mg, E2 (Iodine): 0.24 mg, E4 (Copper): 2 mg, E5 (Manganese): 1 mg, E6 (Zinc): 10 mg, Urine acidifying substances: calcium sulfate: 0.25%. Technological additives: (acidity regulator) sodium bisulfate: 0.56 g.
Analytical Components
Per 1000kcal
Egg white 83.68 g fat content 62.76 g carbohydrates 48.12 g crude fiber 14.64 g dietetic phaser 25.1 g calcium 2.2 g Fosfor 2.09 g potassium 2.09 g sodium 3.03 g chlorides 4 , 18 g magnesium 0.17 g copper 3.14 mg, zinc 23.01 mg taurine 1.26 g vitamins A 47071.13 vitamins E 198.74 mg omega 6 fatty acids 25.1 g omega 3 fatty acids 1.36 g EPA & DHA 0.63g Metabolisable Energy 96
Daily dose of Royal Canin Urinary S/O Wet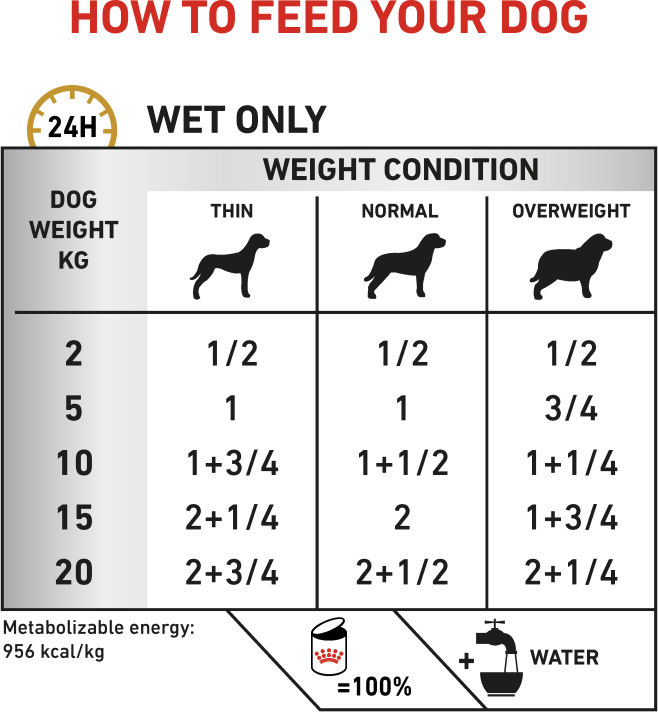 Before you can proceed to purchase this product you should confirm the following : Your pet was examined by a vet who recommended the use of this product on the basis of his/her diagnosis You understand and agree that whilst your pet is fed this product , you seek veterinary adice regarding the usage of this product at least every 6 monts. You understand and agree that you seek immediate veterinary advice if your pet's condition deteriorates in any way whilst you use this product.
0
stars based on
0
reviews