Royal Canin Wet Urinary Moderate Calory 12x100g Dog
| | |
| --- | --- |
| Article number: | YP-JPBH-CTO1 |
| Availability: | Out of stock |
| Delivery time: | 2-3 days |
Description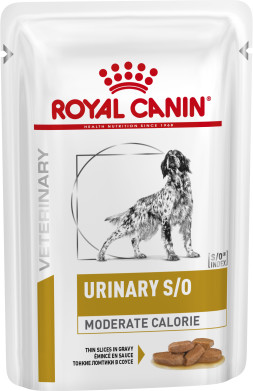 Benefits
✔ Moderate calorie to prevent obesity
✔ Targets struvite and oxalate uroliths
✔ Acidify urine to dissolve kidney stones effectively
✔ Essential omega-3 fatty acids for healthier skin and supple joints
A well balanced wet food for dogs with a tendency to be overweight that struggle with struvite and calcium oxalate uroliths. Royal Canin S/O Moderate Calorie ensures that their ideal weight is maintained thanks to a lowered caloric content in the mixture. Furthermore, the urine is diluted which makes it harder for residual minerals to form kidney stones. It also acidifies the urine to make it less habitable for minerals to hang on to the food. Lastly, Royal Canin S/O Moderate Calorie helps to lower the ion concentration which in turn reduces the chance of kidney stones forming in their urinary tracts. Keep your dog in prime shape, with Royal Canin S/O Moderate Calorie
Ingredients
Meat and animal derivatives, cereals, vegetable protein extracts, derivatives of vegetable origin, minerals, oils and fats, various sugars. Crude fibre: 1%. Protein: 8%.
Additives
Vitamin D3: 180 IU, E1 (Iron): 2 mg, E2 (Iodine): 0.2 mg, E4 (Copper): 1.8 mg, E5 (Manganese): 0.8 mg, E6 (Zinc): 8 mg, Sulfur: 0.2%, Urine acidifying substances: calcium sulfate: 0.3%. Technological additives: (acidity regulator) sodium bisulfate: 1.1 g.
Daily dose of Royal Canin Urinary S/O Moderate Calorie
Your pet needs enough time to get used to the new food. To prevent indigestion, the diet should be slow and gradual. Mix increasing amounts of the new food under the usual feed according to the following ratio:

1-2 day- 25% 75%,
3-4 day - 50% 50%,
5-6 day - 75% 25%,
7 day -100%
Before you can proceed to purchase this product you should confirm the following : Your pet was examined by a vet who recommended the use of this product on the basis of his/her diagnosis You understand and agree that whilst your pet is fed this product , you seek veterinary adice regarding the usage of this product at least every 6 monts. You understand and agree that you seek immediate veterinary advice if your pet's condition deteriorates in any way whilst you use this product.
0
stars based on
0
reviews