| | |
| --- | --- |
| Article number: | XZ-3OY9-202F |
| Availability: | In stock |
| Delivery time: | 1-2 days |
Description
Equitop Myoplast has been manufactured as a supplement for horses to hasten the metabolic process of converting protein into muscle. In Equitop Myoplast, 18 different unique amino acids coming from sweet water algea are used. Amino acids are the necessary ingredient to synthesise protein and support muscle tissue throughout the body. Equitop Myoplast can be used for performance horses, horses recovering from injuries, old horses coping with joint problems, young horses growing rapidly... Any horse can use the high quality protein source Equitop Myoplast offers in a palatable and easily dispensable granule and enjoy the strength of 18 unique high quality amino acids.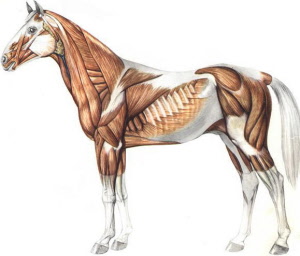 Benefits
✔ 18 unique amino acids
✔ Unique high quality protein source
✔ Reconstruct broken muscle tissue
✔ Build more muscle
✔ Preparation food
Ingredients
Sucrose (41%), algae powder (40%), glucose syrup (18%)
Analytical Components
Crude protein 26.1%, crude ash 4.5%, crude fat 2.1%, crude fiber < 0.1%
Daily Dose Equitop Myoplast
The dosage is 1 measuring spoon (25 g) for small horses and ponies and 2 measuring spoons (50 g) for large horses. You can safely administer Equitop Myoplast to your horse before and during competitions, whether it is a competition, jumping or dressage horse. It is not doping. The 1.5 kg pack contains stock for an average treatment of 4 weeks.
The pearly granules can be fed separately or mixed with a normal, balanced diet. Feed your horse Equitop Myoplastfor at least 4 weeks. Effect can be expected after 2 to 4 weeks.
0
stars based on
0
reviews